5 Ways to Style a Leopard Print Dress
Leopard is undeniably the print of the season for summer and it's not slowing down for autumn. The leopard dress is a key item for every fashionista's wardrobe right now and whether you opt for a chic midi wrap dress in the eternally fabulous print or a satin mini with on-trend cowl neck, there are several keys ways to rock the look in style.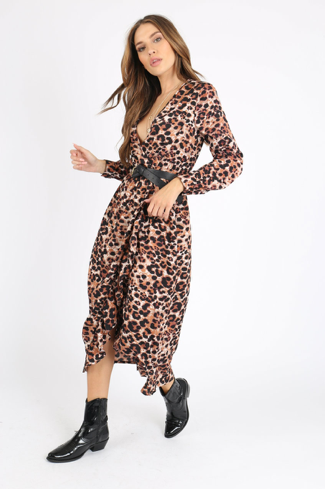 Layer the Leopard
You may have never previously thought it but layering different types of leopard is now not just A-Okay, but completely and desirably on-trend. Seriously, try a slightly different leopard print in the same hues within your accessories or even throw over your shoulders a leopard print jacket in striking red or neon green. The wilder the leopard print, the better right now.
Blend with Other Prints
If you don't feel like pairing with another leopard piece, clashing prints is still one of the hottest looks to work at the moment. Pair your leopard print dress with an oversized plaid blazer or even team your favourite leopard piece with bold, statement zebra accessories for a really jungle-esque vibe.
Dress It Down
Dressing your leopard print dress down means being able to wear it all day every day. Sound good to you? Team it with flat gladiator sandals while the sun is still shining or style it with on-trend chunky white trainers and a slouchy knit if the temperature drops a little. A classic, yet edgy pairing for your leopard dress is the perfect leather biker jacket and simple black, flat Chelsea boots. An ideal look to take you from day to night, but casually. Don't forget how good leopard print looks with denim. Add a denim jacket to a leopard dress and it finishes a casual look to perfection.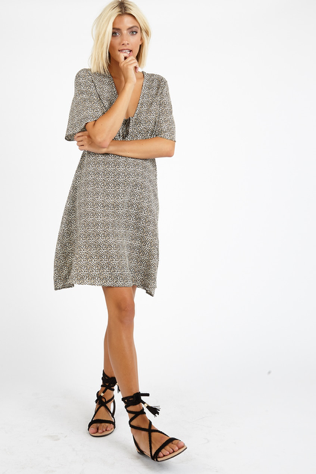 Dress It Up
Get Dressy with your leopard and glam it up for a big night out on the town. A look you might have previously done with sneakers can be styled up with a simple change of accessories. Leopard is now generally considered a neutral, so don't think you have to stick to black or nude accessories to keep a look chic. Throwing in a pop of colour adds interest and edge to a leopard dress outfit and you'll quickly find that every colour looks good with it. Leopard print looks best with gold. Layer those necklaces up and add a small gold hoop earring for a blogger-style finish.
Add It to A Monochrome Look
Leopard print looks so good with both black or white, so make it your statement focus on a simple look. Layer a leopard dress over a black T-shirt with black sock boots and let your print pop. Equally, all white accessories and jacket, leave the leopard print as the focus of the outfit with a fresh, clean backdrop.
If you thought the leopard print trend was coming to a close, get ready for a shock. This autumn is going to bring leopard coats, endless boots and accessories and more statement dresses to excite every girl's wardrobe. Style them up in your own way and you'll find yourself sneaking a little leopard into every one of your favourite looks.