Make A Statement with Stripes and Abstract Prints This Season
There's nothing about this season's hottest trends that screams minimal or simplistic. It's all about the prints and it's all about making your very own sartorial statement and rocking them in your own way. From classic stripes with a twist to the most abstract and artistic prints in town, we're loving bold prints of every kind, this season.
Every girl needs a striped wrap dress in their wardrobe
It'll serve you through the winter season, styled with tights and ankle boots plus your biggest and favourite teddy coat, through to next summer, so don't underestimate the power of the ultimately chic striped wrap dress. Taking a lesson from fashion icon Diane Von Furstenberg, wrap dresses are built to flatter every figure, adding curves in just the right places and cinching in that waist for the perfect hourglass silhouette.
The stripe trend isn't just for wardrobe classics…
Evolve from your go-to LBD to a dazzling jumpsuit for your big night out this month and opt for stripes, elongating the legs and ensuring all eyes are on you. Keep accessories simple but remember, there's always room for a statement earring.
Get a little abstract!
Alongside our favourite striped dresses and jumpsuits, abstract prints are turning this season's biggest fashion looks up a notch. Whether it's a simple, yet abstract monochrome pattern or an abstract combination of florals and polka dots, getting a little abstract this season will update your wardrobe in an instant.
We're obsessed over prints that combine several patterns into one key look. When it comes to stripes, animal print and that designer-vibe chain print, why not blend it into one bold abstract piece? Pair them together for a complete head to toe look or wear as separates with your go-to black faves.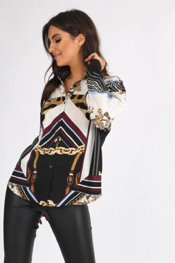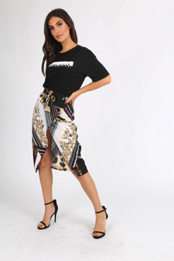 How to Style a Bold Print This Season?
There's no wrong way to style a statement abstract or stripe print this season, but there's a few ways that we think are going to be ruling street style.
Mix & Match
The louder, the better. So, don't be afraid to mix and match your look. Just because you are wearing a striped shirt or top, don't insist on wearing simple trousers or jeans to "tone it down". Mix and match prints and give your look a unique twist every time.
Keep It Casual
If you're into a more laid-back approach to styling, we feel you! Bold, statement prints don't always have to knock everyone's socks off. A print can also be chic and casual when styled just right. Take your favourite key print item and style it with your go-to basic tee or high-waist jeans, adding just a pair of chunky white trainers and it gives your printed pieces a whole new look.
Are you ready to make your own style statement? From top to toe stripes for girl's night out to a chic hint of print teamed with your fave leather leggings, this season, stripes and abstract prints are everything. Head straight over to our Instagram to see how some of our supremely stylish customers are wearing theirs.