Polka Dots Are Back: How to Rock the Spot Trend
Polka dots are the ultimate print. Transcending season and after season and prevailing as one of the chicest and most successful prints year upon year, if you're not into it yet, you better change your mind quick.
No longer are polka dots simply cute or sweet. Now, they are one of the hottest print trends in fashion, seen on the runway for the brands including, but not limited to Moschino, Christian Dior and Dolce & Gabbana and worn by the most stylish names in the celebrity fashion pack.
Don't keep it simple with block colours and subtle prints, update your look and introduce polka dots to not only your casual outfits but your workwear wardrobe too.
Experiment with Size
There are no rules when it comes to polka dot sizes. Miniscule micro-spots are perfect to add a detailed feature to a look and wide-spaced, mega-spots are ideal for teaming with different prints and making a statement. Colour is where you can get really creative with the polka dot trend. Monochrome spots are chic and forever in style, but seek out a pop of polka dot colour for a striking alternative.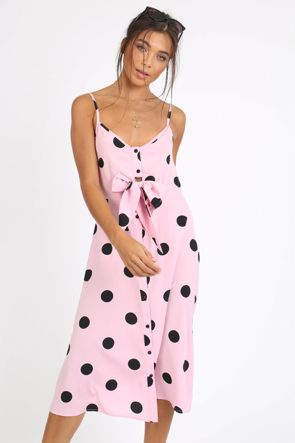 Pair It with Knitwear for Autumn
The perfect polka dot dress might give you all the summery feels, however teaming it something as simple as an oversized, chunky knit instantly revitalises the look, making it autumn appropriate and giving it a more fashion-forward edge. Don't always assume you need to pair skirts with sweaters. Layering it over your favourite summer dress works perfectly too. Finish the look with either trainers or heeled ankle boots and your favourite seasonal tote bag.
Mixed Prints
Fashion picks with integrated mixed prints are the ones to watch this season. Spots and stripes are now best friends, offering a fashion-forward, ultimately cool pick for your wardrobe. Mix and match with different pieces or find the perfect dress that combines the two prints, meaning the styling is already done for you. Team with anything from trainers to barely-there strappy sandals for a look that you can wear any time, any day.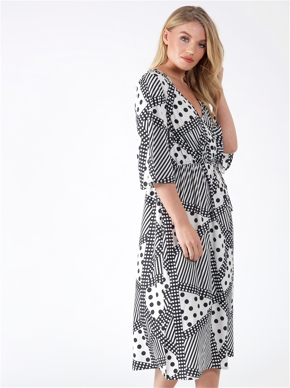 The Eternal Top
A classic polka dot top or blouse will take you through the seasons, forcing its way into your top wardrobe pieces. Opt for a feminine polka dot wrap top, complete with frills and tiered details or keep it modern with a crop top, styled effortlessly with an elegant A-line midi skirt. Worn with anything from distressed, boyfriend denim to sultry leather trousers or a coordinating mini, a polka dot top is certainly the eternally stylish choice of the season.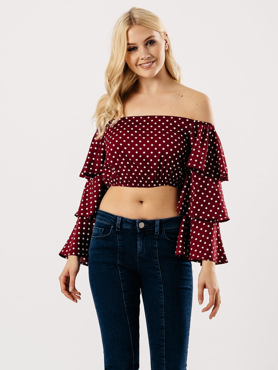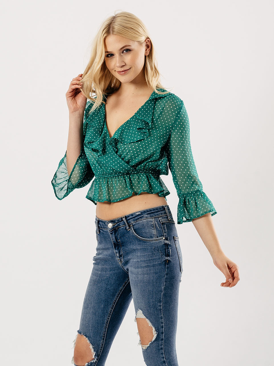 If there's a print that's worth investing in this season, it has got to be polka dots. Proving once again that the classic print can bounce back each season and outshine even the trendiest of looks, the polka dot is forever a stylish choice. Opt for monochrome, pops of colour or keep things neutral. Whatever your style, every girl needs a little polka dot in her life heading into autumn.