Snake Print: The Trend Sliding Its Way into Autumn Fashion
It's no secret that prints are huge right now and animal prints particularly are having a real moment of their own in the fashion of today. Forget leopard and zebra or the elusive cheetah for a second, today, the focus lies elsewhere. From pleated snakeskin midi skirts to the ultimate on-trend snake print shirtdress, when it comes to animal print, let's not forget our reptilian friend; the snake.
The snakeskin print has evoked a sense of luxury style within fashion for decades and the print is now officially one of the hottest of the season. We're seeing it in magazines in neutral, natural tones as well as brights that instantly pop off the page, giving us a plethora of animalistic inspiration.
Whether you're embracing animal prints like the best of them and piling them on, one on top of the other, or are more sceptically wondering how best to style the look, there are some simple style tips when it comes to rocking the snake print trend in just the right way. It's all about creativity, personality and daring to be bold.
Don't Be Shy
Firstly, when it comes to snake print fashion, don't be shy. It's a loud print and it deserves to be worn with confidence and creativity, so choose a statement print or audacious colour-way and make the very most of the trend.
Mix It Up
As with most of the print trends right now, snake print craves to be paired with other prints, the louder and more clashing, the better. For an overall more polished look, pick out the central colour from your chosen snake print and team it with similar colours in another print. However, this preciseness isn't exactly necessary to achieve ultimate street-style blogger vibes. Pair your snake with leopard print or zebra or venture away from the animal print sphere and team with classic polka dots or stripes for a look with serious intention.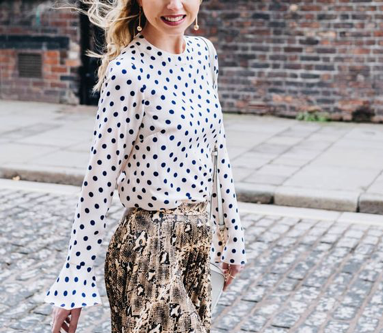 Update Your Accessories
Snake print was created for accessories. A simple, off-duty style gets a statement update in an instant with the addition of a pair of snake print ankle boots or the perfect reptile-inspired clutch. When it comes to snake print accessories, it's never about colour matching. Choose boldly and opt for a print with black running through for a classic take on this on-trend look.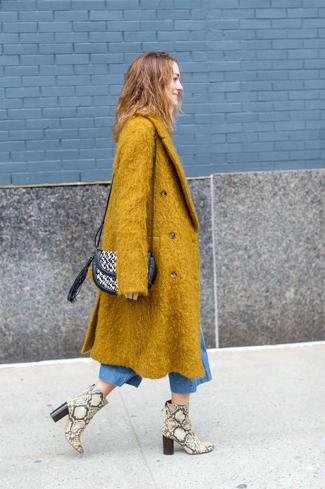 Do It with Black
Electric blue snake print, classic cream or natural grey. Whatever snakeskin print you choose, do it with black. This is such a chic, effortless, yet expensive-looking way to rock the snake print trend and works every single time. From a statement pair of snake trousers to the perfect snake print biker jacket, teamed against a sleek, black backdrop, you simply can't go wrong.
How will you be wearing your snake print this season? With bold, statement and mismatched the key buzzwords when it comes to this look, it's time to get creative and pull together some new outfits that your wardrobe has never seen before.